Alerts and Notices
---
To ensure multiple means of emergency communication for our campus, Navarro College uses a Watchdog Alert system to send emergency notification alerts to the campus
During emergencies, this system will send text messages, emails, and voice calls to registered recipients. The system will also post alerts or emergency information to the Navarro College Facebook account and/or the Navarro College Twitter accounts. Watchdog Alert notices are intended only for situations involving imminent danger to health or human safety. These may include severe weather alerts, winter weather class cancellations, hostile threats, utility failure, major road closings or fire, among others.
Navarro College Department of Public Safety has developed a comprehensive safety plan. The plan is designed to prepare people on campus for unlikely events such as hostile situations, as well as likely events such as inclement or severe weather.
A number of measures listed below have been implemented to notify the campus community in the event of a problem or emergency:
Watchdog Alert System
Automatically alerts by phone, email, and/or text message of emergency situation that could affect the campus.



Fire Alarms
If this alarm sounds, leave the building quickly and move to the designated area.



NC Website
In the event of an emergency, a special page with instructions will be available.
Several terms will be used when an alert is issued which will quickly instruct you on what to do next:
Evacuation
Evacuate the buildings quickly and quietly following the evacuation plans in your classroom.



Shelter in Place
In the event of a weather emergency or other situations you may be instructed to move to a designated interior safe zone and remain there until all is clear and safe.



Lockdown
This will be used in the event of a danger situation, such as a shooting or hazardous material release. Lock the door to your office or classroom (barricade if possible), turn off lights, turn off your cell phone volume, and stay quiet and out of sight. If a fire alarm goes off, do not leave unless you smell smoke. Stay in that location and until someone in authority that you recognize further advises. Do not open the door unless you recognize the person of authority on the other side.
Download Campus Safety Plan Poster
Download Active Shooter Response Poster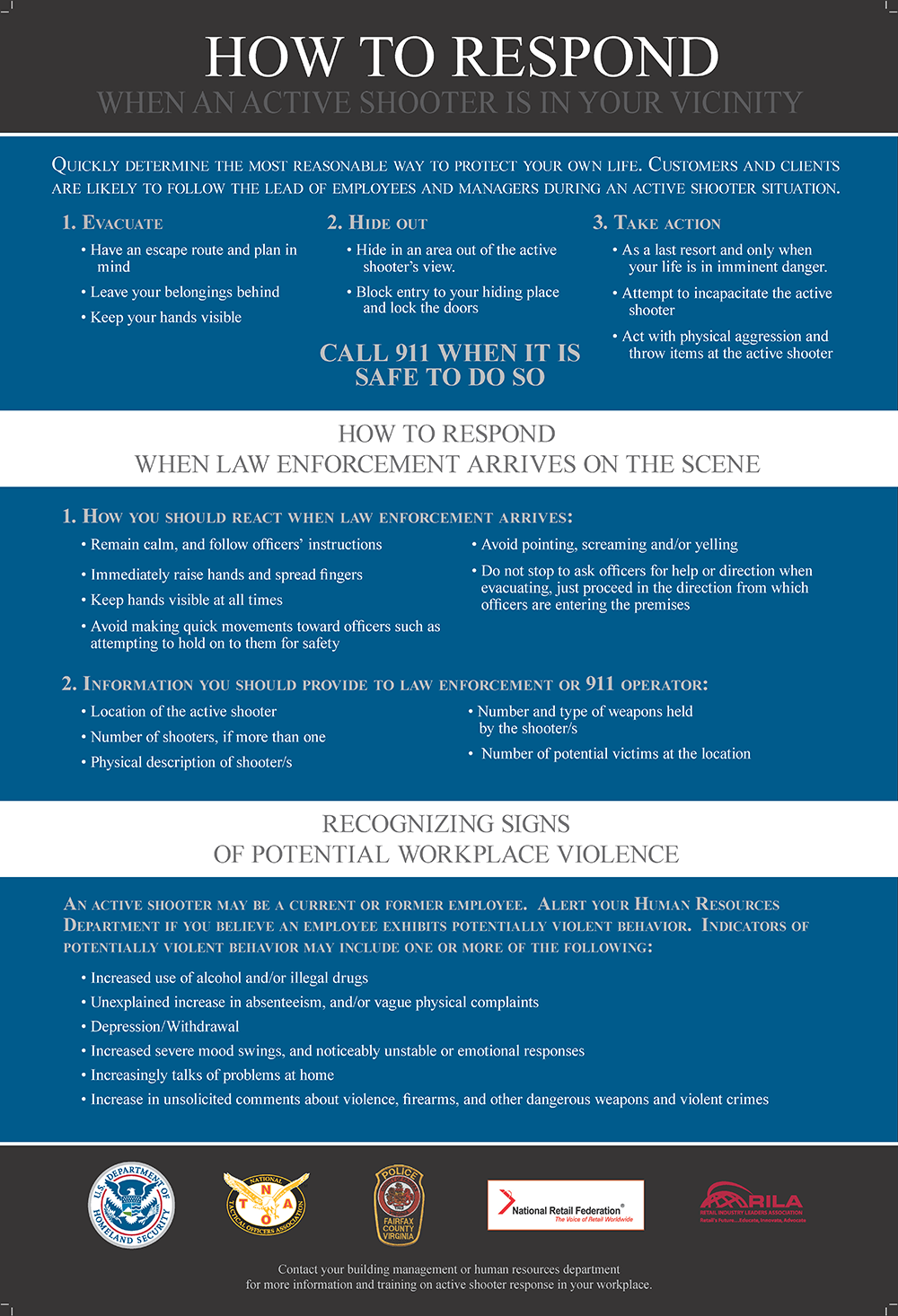 ---